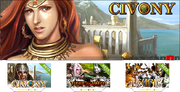 Press Release and News
Feb 08 2009 About the UMGE group
UMGE stands for Universal Multiplayer Game Entertainment. A search through Google Finance with the keywords, "china multiplayer -korea," shows that the publicly listed China-based MMOG companies alone account for 7.3 billion USD of market capitalization. China is indisputably the world's most thriving multiplayer game market. Thanks to the demanding gamers' ultrafast feedback cycle, China has been the perfect greenhouse to nurture innovative game developers, which in turn breeds revolutionary design and gameplay.
Founded by an elite group of avid mainland China game developers, UMGE grows organically through developing engaging, albeit relatively low budget, web-based browser MMOG games: Civony and Leuric.
Civony is multiplayer role playing browser game, whose background is set in medieval Europe. Players develop their own cities by training troops, researching technologies, consolidating fortification systems, and so on. Players climb up the nobility ladder by storming the continent. There are eight human forces: Worker, Warrior, Scout, Pikeman, Swordsman, Cavalry and Cataphract; and four machinery forces: Transporter, Ballista, Battering Ram and Catapult. Besides, the technologies family adds additional tweaks to the gameplay. They are all critical to winning. More than five thousand words of well-researched history of the fortifications and the progress of technology put the gameplay into context.
Leuric is a multiplayer role playing Flash browser game, in which members of the two factions, Viking and Atlantian fight against each other in the ultimate battle for supremacy. Players can choose to adventure the vast lands of Leuric or fight against other players in the battle arena. There are over 600 types of weapons and items to choose from, and they are all customizable to the character skills, making each character unique.
In addition, UMGE is investing substantially in developing Surge of Valor, a Window client-application-based MMOG. Surge of Valor takes a player into a world of fantasy to experience adventure and to fight monsters. There are four basic character classes: Warrior, Mage, Archer and Cleric join hands to defend Continent Aldema against the invasion of demons and evil forces. With new contents and features being introduced regularly, Surge of Valor is going to be an A-list MMORPG title.
References:
- http://hods.com/civony/umge/
#
#
#
ALL CONTENT COPYRIGHT ©2009 REGANMERC.COM
Community content is available under
CC-BY-SA
unless otherwise noted.